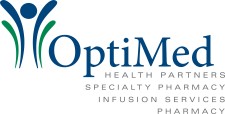 Highlighting OptiMed's safe pharmacy practices and quality patient care
KALAMAZOO, Mich., November 28, 2018 (Newswire.com) - OptiMed Health Partners announced that it was awarded an additional three-year specialty pharmacy accreditation from URAC, a Washington, D.C., health care accrediting organization that assesses quality standards for the health care industry. URAC's specialty pharmacy accreditation provides a symbol of excellence for organizations to showcase their commitment to quality and accountability.
"OptiMed is pleased to receive this accreditation from URAC, as it highlights our commitment to delivering excellence and value from the specialty pharmacy services we provide to our diverse client base," said OptiMed Founder and CEO, Andrew Reeves R.Ph. "As the industry brings more life-changing and often costly therapies to the specialty market, it is our responsibility and honor to provide stakeholders a meaningful measure in which they can determine the value of these medications."
Delivering more than just medications, OptiMed provides patients with comprehensive care, clinical management, insurance investigators, resources and tailored support services. OptiMed's clinical pharmacists, with advanced training, coach patients through their treatment journey. Licensed, certified pharmacy technicians promote adherence, safety, and quality while essential patient support personnel create a positive, lasting impact in the lives of patients. OptiMed is best-in-class for chronic and rare specialty diseases such as Crohn's disease, hepatitis C, HIV/AIDS, psoriasis and rheumatoid arthritis. OptiMed Specialty Pharmacy also holds specialty pharmacy accreditation from the Accreditation Commission for Health Care (ACHC) and is licensed to provide services to patients nationwide.
"It's necessary for specialty pharmacies to provide a higher level of treatment for patients so desired outcomes are achieved. OptiMed Specialty Pharmacy shows a dedication to patient education and safety through the recognition of quality it received with URAC's independent accreditation," said URAC President and CEO Kylanne Green. "With URAC accreditation, people know that OptiMed Specialty Pharmacy strives to adhere to industry best practices."
URAC promotes a high standard of pharmacy quality and patient care through the standardization of processes and a drive for continuous quality improvement. Accreditation reinforces best clinical and organizational practices for ensuring appropriate and safe medication use and optimal patient outcomes. Evidence of therapy counseling, disease education, care coordination, comprehensive patient education, and adherence management are critical for assuring successful patient medication therapy management and safety – and all are standards validated by URAC's specialty pharmacy accreditation.
"We are extremely pleased to have achieved this designation," said OptiMed's Director of Pharmacy Jessica Ninke, PharmD. "Accreditation is a rigorous process, but one that we welcome as a continuous quality improvement mechanism. Earning URAC full specialty pharmacy re-accreditation is another measure of our continued excellence as a premier provider of specialized pharmacy services and reflects our commitment to our patients, as well as our health care providers and partners."
About OptiMed:  OptiMed Health Partners, headquartered in Kalamazoo, Michigan, is an independently owned and operated national health care organization. With over 25 years of experience, OptiMed leverages personalized attention to detail to deliver customized solutions that optimize patient outcomes while partnering with other health care organizations to usher in a new standard of excellence. To learn more about OptiMed's innovative and personalized care, visit www.optimedhealthpartners.com or email connect@optimedhealthpartners.com.
About URAC:  Founded in 1990, URAC is the independent leader in advancing health care quality through leadership, accreditation, measurement and innovation. URAC offers a wide range of quality benchmarking programs that reflect the latest changes in health care and provide a symbol of excellence for organizations to showcase their validated commitment to quality and accountability. URAC's evidence-based measures and standards are developed through inclusive engagement with a broad range of stakeholders committed to improving the quality of health care. For more information, visit www.URAC.org.
Source: OptiMed Health Partners
Share: