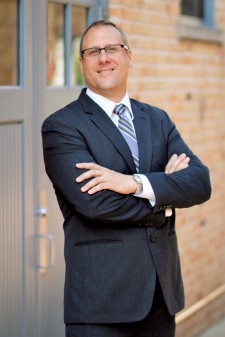 Award Highlights Pharmacy Pioneers Re-Energizing the Profession to Meet the Healthcare Needs of Tomorrow's Patients
Kalamazoo, Michigan, April 25, 2017 (Newswire.com) - OptiMed Specialty Pharmacy is proud to announce that its CEO, Andy Reeves, RPh, was recently awarded the Excellence in Innovation award from the Michigan Pharmacists Association (MPA).  
To be deserving of this award, a pharmacist must demonstrate an innovative pharmacy practice program that resulted in improved patient care. This award highlights the work and efforts of pharmacy pioneers who are re-energizing the pharmacy profession to meet the healthcare needs of tomorrow's patients.
Reeves has spent his career efficiently serving patients by ensuring medication treatment adherence and enhancing disease management. He has sought to expand the pharmacist's role on the healthcare team and focused on patient-centered care and reducing healthcare costs. His work pushes forward the pharmacy profession and demonstrates how pharmacists directly impact patient treatment success. Lastly, he was instrumental in bringing pharmacogenetic testing into outpatient treatment and created models that include a pharmacist's interpretation of lab results and better understanding of patient medication profiles and potential drug interactions.
Reeves has served on the Pharmacy Political Action Council Board of Directors, MPA Third Party Committee, Pharmacy Advocate Response Team, and Southwest Michigan Pharmacists Association.
OPTIMED SPECIALTY PHARMACY, headquartered in Kalamazoo, Mich., is an independently owned and operated national specialty pharmacy. With almost 25 years of experience, OptiMed is devoted to providing personalized patient care with a commitment to prioritizing quality, minimizing costs and maximizing patient outcomes.
MICHIGAN PHARMACISTS ASSOCIATION represents the nearly 9,000 pharmacists and 15,000 pharmacy technicians in Michigan, and strives to serve members by providing support, advocacy and resources that ultimately improve patient care, safety, health and the practice of pharmacy.
Source: OptiMed Specialty Pharmacy
Share: