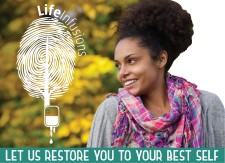 LifeInfusions empowers patients suffering from depression, anxiety, and PTSD to restore them to their best self with Ketamine Infusion Therapy.
KALAMAZOO, Mich., October 24, 2018 (Newswire.com) - OptiMed Health Partners and LifeInfusions are collaborating to provide ketamine infusions, a highly effective therapy for depression, anxiety, and pain, to eligible patients in the Kalamazoo area. This intravenous (IV) therapy is gaining traction nationally as a potential solution for patients with refractory or difficult to treat mental health conditions. OptiMed and LifeInfusions have recognized a need in the Kalamazoo community and have partnered to help those patients who have exhausted most conventional treatment options.
Chad Henry, a clinical pharmacist at OptiMed Health Partners, explains that "ketamine provides patients with severe depression, anxiety, or pain who have failed conventional therapies with an effective and rapid-acting alternative. Relief is needed immediately, and ketamine makes it possible. It is safe, effective, and can make a big impact on improving daily quality of life for these patients."
Despite being highly effective, ketamine infusions are not widely utilized due to previous reports of dissociative effects during the administration process and the potential for abuse. However, ketamine is used commonly for its anesthetic properties, and when administered in low doses for short-term use through a regulated health care agency, it provides a safe and highly effective treatment option for many patients.
"We are very excited to partner with LifeInfusions to offer this life-changing therapy to patients in need of a new treatment option," says OptiMed CEO, Andy Reeves. "Part of OptiMed's mission includes finding innovative solutions aimed at bettering patient quality of life and health outcomes. Access to ketamine infusions will provide a new option for an underserved patient population, and we look forward to how this partnership will positively impact lives in our community."
OptiMed has a longstanding history of developing and implementing innovative care models for patients receiving complex medication therapies. Such therapies often require special administration, storage, monitoring, and education. As a relatively new organization, LifeInfusions shares the commitment to patient-centered care models, and the ketamine partnership marks the first of many opportunities for synergy between the organizations.
About OptiMed: OptiMed Health Partners, headquartered in Kalamazoo, Michigan, is an independently owned and operated national healthcare organization. With almost 25 years of experience, OptiMed leverages personalized attention to detail to deliver customized solutions that optimize patient outcomes while partnering with other healthcare organizations to usher in a new standard of excellence. To learn more about OptiMed's innovative and personalized care, go to www.optimedhealthpartners.com or email connect@optimedhealthpartners.com
About LifeInfusions:  LifeInfusions empowers patients suffering from depression, anxiety, and PTSD to restore them to their best self with Ketamine Infusion Therapy in Southwest Michigan. At LifeInfusions, we take a holistic approach coupled with modern medical science, collaboration, and the unique experience of each patient to achieve a brighter future. To learn more about LifeInfusions, visit www.LifeInfusions.us or email connect@lifeinfusions.us to get started on your journey today.  Relief is possible. There is hope. Our care coaches are one call away at 269.250.8000 (877.232.2857 Toll-Free).
Source: OptiMed Health Partners
Share: