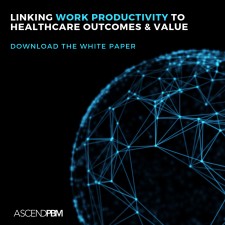 Announcing a breakthrough value equation giving employers insight on specialty healthcare investments
KALAMAZOO, Mich., September 11, 2019 (Newswire.com) - Suboptimal health is costing U.S. employers billions annually. Absenteeism, related to poor health, costs American employers an astounding $225.8 billion annually. The cost of healthcare continues to rise with the cost of employee health benefits, expected to near $15,000 on average in 2019.
Cost alone does not translate to value in healthcare. Most businesses carefully track direct health-related costs. However, many have no method for analyzing the numerous factors that may influence the corresponding value of these expenditures, positively or negatively. Given their substantial financial investment into employee health, employers are justified in asking whether healthcare expenditures contribute to improved employee health and productivity, as well as to the bottom line.
The HERO Score provides employers the insight needed to achieve the health outcomes most important to their unique workforce. By distilling a multitude of health outcome variables into a simple, easy-to-interpret value score, employers can see how their healthcare investments affect employee productivity and provide value to their organization.
ASCENDpbm has aligned with OptiMed Health Partners to utilize the Health Economics Return & Outcomes (HERO) Score and assist employers in evaluating the return on healthcare dollars invested. This measured score critically assesses the value provided from specialty pharmaceuticals, which are a major force driving pharmacy benefit costs.
"Unlike absenteeism, presenteeism isn't always apparent. You know when someone doesn't show up for work, but you often can't tell when — or how much — an illness or a medical condition hinders someone's performance".
Download the paper here. Learn more about Harmonize.Healthcare applying novel care strategies to positively impact your organization, maintaining clear and timely communication between stakeholders, performing targeted interventions, and utilizing advanced analytics to monitor performance in real-time; the Harmonize.Healthcare network has the potential to truly revolutionize employee health and productivity.
About ASCENDpbm:  ASCENDpbm is a prescription benefit management organization that is disrupting the status quo by reducing healthcare costs using transparency, technology, appropriate utilization and improved patient outcomes. To learn more about ASCENDpbm, visit www.ascendpbm.com.
About Harmonize.Healthcare:  Harmonize.Healthcare exists to provide a transparent and patient-focused network of premier healthcare innovators collaborating to disrupt traditional models of healthcare delivery. The Initiative is essential in helping employers understand the outcomes of their healthcare decisions and optimize the delivery of effective value-based healthcare services to their workforce. To learn more about Harmonize.Healthcare and their initiatives, visit HARMONIZE.HEALTHCARE.
Source: ASCENDpbm
Share: